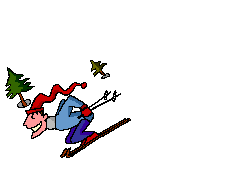 So many mountains, so little time!
PO Box 3411, Fredericksburg, VA 22402
The winter is wrapping up and spring is coming up. In fact, meteorologically, the winter is over and spring has begun. (March 1 is considered the start of "meteorological spring".) This year, I've not taken part in the ski trip out west to Telluride, so no trip report this time. Massanutten has gotten some pretty good dumps out of all these winter storms that we kept getting hit with over the past several weeks, though. That one Sunday morning, we were skiing in nearly a foot of fresh powder! At Massanutten, of all places! Current plan is to try to stay open through March 21st. This upcoming Saturday (March 6th) will be the last night skiing session for the season. After that Massanutten will only offer day skiing (8 to 5) for the rest of the season.

I will be interested in hearing how the Telluride trip went though. I wonder what kind of skiing conditions were there. Were you guys able to get back on that following Saturday as we were in the midst of a winter storm here? I wonder how all the COVID-19 restrictions and masking mandates affected the overall enjoyment of the experience. That is the main reason why I opted out of going this year. If I am going to spend all that money and time to go out on a trip like that, I want to enjoy it fully and not have to deal with all the restrictions. In fact, I've not even really skied much at Massanutten beyond the shifts I was taking for the ski patrol for that same reason. Having to deal with masks while skiing is a royal pain and I am not enjoying it at all. Also stinks that I cannot get access to many of the other amenities like I used to as a result as well, such as the fitness center, the water park, etc. It really is a shame as I really would've loved to go and ski Telluride. I've heard it really is an awesome mountain. Next year, I am hoping for Jackson Hole, as I've loved that place the last time I was there.

Despite all the masking up and doing everything "by the rules", I still somehow managed to come down with COVID-19. I noticed symptoms on/around January 8th and was living in misery for the next week and a half. It was like having a really bad case of the flu, although I did not experience any of the other major symptoms, such as the loss of taste/smell, nor any shortness of breath. Just the flu-like symptoms, including a headache, and that cough! Oh, that cough was horrible! I did managed to get over it all and now feeling perfectly fine. I have no idea how or where I got it. Then again, I am not one to hole up in the basement and hope it all goes away. I still go out running, riding my bike, hiking, etc. In other words, I still have to live my life and do the things I want without fear that I might "catch something". For all I know, I could've very well caught COVID while I was at the grocery store.

Anyway, as I did mention Jackson Hole, seems we got next winter's (2022) trips pretty much set. Looks like the usual western trip will be at Jackson Hole, Wyoming, and there will be an overseas/European trip to Solden in the Tyrol state of Austria. There is also an option for a side trip to Innsbruck for the day. I am not aware yet of any "pre-trip" or "post-trip" add-ons and where those add-ons would be. Currently, I really do plan on going to Jackson Hole. That Solden trip looks really nice and really would've love to go on that as well. Unfortunately, I really can only take the time to only do one trip. If only you knew what I had to go through at work to allow the nearly one-month of time I took to go to Japan. I don't think they would be very happy if I tried that again so soon, even though I really did not take any time off since Japan (other than Christmas Eve and the time I needed to recover from COVID-19). Not only that, but I am still working from home and had been doing so since I got back from Japan (and to think exactly one year ago as I write this, I was in Tokyo with David Callahan, checking out the sites.)

Lastly, we are going to hold a virtual general meeting over Zoom on Thursday March 18th at 6:30. Mike Redding will post the details on how to get into the meeting when the time gets a little closer. Hopefully we can hear more about how the Telluride trip went as well as learn a little more about next year's planned trips. We will also need to figure out how to deal with the board elections that typically take place in April. Beyond that, I wish you all continued good health and looking forward to seeing you. I will be glad when we can start doing these things in person again. Oh yea! Next weekend (March 14), don't forget to set your clocks ahead an hour as Daylight Saving Time begins that day.
​
Steve Konopa
​