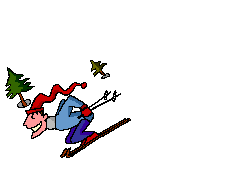 So many mountains, so little time!
PO Box 3411, Fredericksburg, VA 22402
Next Ski Club Meeting
Wednesday, February 15th
6:30pm at
Rey Azteca Mexican Restaurant
1109 Emancipation Highway
In Eagle Village Shopping Center

Join us to get the lowdown
on the club's recent trip to Crested Butte.
Join the Fredericksburg Ski Club
on the Blue Ridge Ski Council's
Western Carnival to
Crested Butte, Colorado
January 28th - February 4th, 2023
For all the details, see our FSC Trips Page.
Membership Renewals Due!

It's that time of year to prepare for the coming winter! The snow's on its way (somewhere), so let's get those membership renewals to the Fredericksburg Ski Club in the mail! The membership year starts on November 1st. If you haven't already renewed, write a check (made out to the Fredericksburg Ski Club) for $20 (single) or $30 (couple), and mail it to our treasurer at:
Wally Morton
PO Box 1507
King George, VA 22485