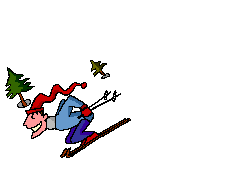 So many mountains, so little time!
PO Box 3411, Fredericksburg, VA 22402
Join the Fredericksburg Ski Club
on the Blue Ridge Ski Council's
Western Carnival to
Crested Butte, Colorado
The trip is from January 28th through February 4th, 2023. The price is $1,900 per person (double occupancy) which includes lodging, roundtrip airfare (from Reagan National to Gunnison), ground transportation (between Gunnison and Crested Butte) and BRSC social events. This price does NOT include lift tickets, but EPIC passes are available at a discount. Click on the PDF icon below for the trip flyer. Contact trip leader Jennifer Morse ASAP at 734-276-5303 or email jenmorse8@hotmail.com.
As a member of the Blue Ridge Ski Council, FSC members are entitled to participate in trips offered by other BRSC clubs which have been sanctioned by the Council, at the same price that their members pay and without joining the host club. The FSC is not a party to any financial transaction between its members and the affiliated clubs. The prepayment and cancellation policies of each host club will vary.